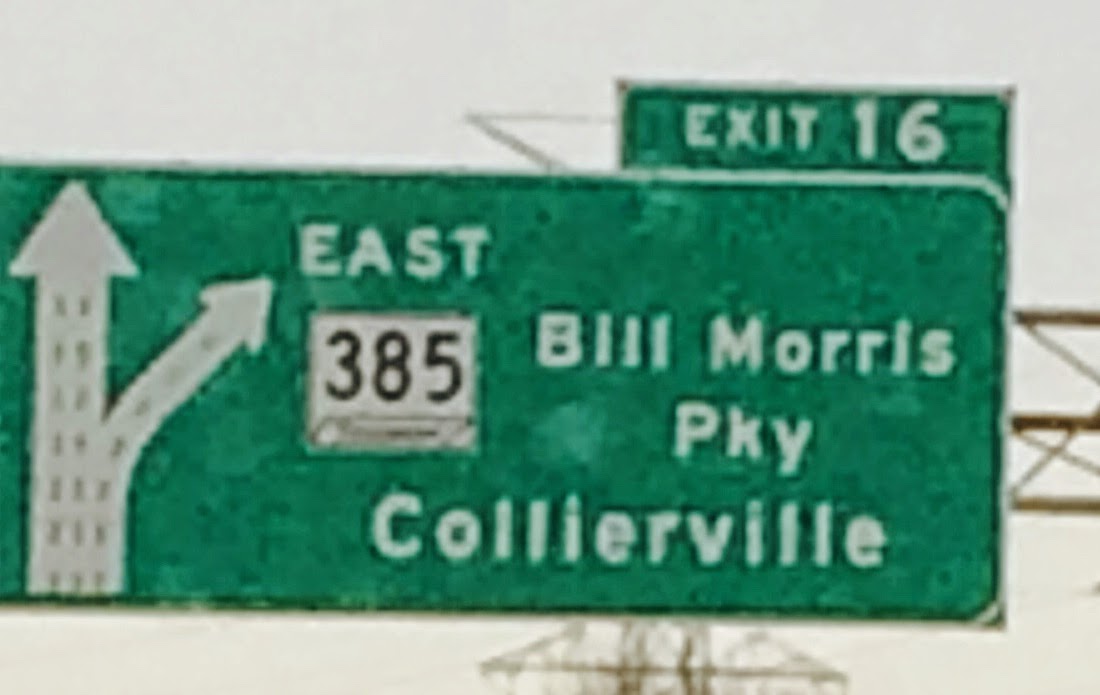 Today, January 25th, my dad (Bill Morris) would have been 87.  If birthdays are celebrated in Heaven he will be celebrating for the 13th year there.  Last week while traveling I saw this sign.  Oh how I wish I could just get in the right lane of the highway and go spend a few more minutes/hours/days/weeks . . . with Dad.
If I could, what would I say?
Thank you Dad for the way you loved me, believed in me and invested in me.  
Thank you for building snow ramps for us as we were growing up and always making time to take us sledding (you wouldn't believe how much traffic there is now at the Scudders Falls interchange on I 95 now.  Jerry can't believe we used to sled there!
Thank you for providing for our family through sound financial management, and the huge garden of veggies you grew each year (wish I had gotten your green thumb!), not to mention your homemade bread and homemade ice cream!
Thank you for teaching me how to ride a bike, thanks for building us a playhouse, thanks for the times you took me fishing.
Thank you for teaching me both how to live – with a focus centered on God and others; and how to die – you weren't afraid, you had confidence in your God and the home He had prepared for you.  Thank you for letting me care for you your last two weeks of life (even when you told me you thought I had switched to "the other side" – ha!)
Thank you for introducing me to the world of disability, and for "doing" disability ministry before it was even a term or idea to pursue.  
Thank you for your love of missions, and introducing us to so many missionaries, and expanding our world.  
Thanks for getting up at 3 am to drive me and friends 8 hours to camp and then driving back home the same day; only to do it all again the next week to pick us up.
Thank you for leaving us notebook upon notebook of the Sunday School lessons you loved to teach (the book of John was your favorite).  How sweet to get to know you and your spiritual life better through reading these.
Thanks Dad for being a good sport, and though you knew you couldn't sing on tune to save your life, you sang in our Pioneer Girl Talent Show.
Thanks for bearing with me when I was obstinate, manipulating, or let you down in how I responded to you.  
Thanks for teaching Jet Cadets and all the great games you did to help us learn the Bible more   and your creative objet lessons – like swallowing flaming cotton balls!(Again, before the programs and curriculums like Awana were even thought about!).
You'd be so proud of your grandkids and great grandkids.  Those who had the privilege to know you still talk about playing "Yankee Doodle" with you.  Your heritage is being carried on through these incredible "kids."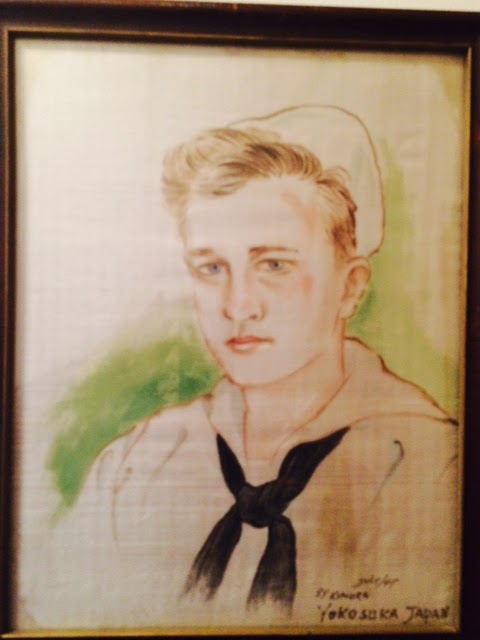 Dad served in the Navy; this sketch
was done of him in Japan 1944.
I know you weren't perfect Dad.  We still laugh about the times you'd ask Mom or Ginny or me where we wanted to go out to dinner and when we'd tell you where you'd say ok, and then still drive to the place you wanted to go!  We didn't always appreciate your love for cleanliness, structure and order that led us to sometimes vacuum twice a day so there was no hair from our beloved dog King around.  That part of your character also led you to get your High School GED, which was the highest degree you achieved, yet you still were an adjunct professor at Trenton State College a couple of semesters.
I could go on and on Dad, but the last lesson you taught me is the one that Jerry and I still hold close in our hearts.  It's the day you were in hospice at the hospital and rallied your strength for a family meeting.  You made it clear that you wanted the hymn, "It Is Well With My Soul" sung at your memorial service (and we did).  But what stood out was that in your very weakened state you quoted the words to all the verses and told us all, "Never forget the third verse.  People usually skip the third verse when they sing it."  And you went on to quote:
              My sin, oh the bliss of this glorious thought;
              My sin, not in part, but the whole
              Is nailed to the cross and I bear it no more
              Praise the Lord, praise the Lord o my soul.
To this day, Dad whenever that hymn is sung Jerry reaches for my hand, and we sing, through the tears and wait anxiously to see if the leader will include the third verse.  Thank you for being sure we understood and accepted the reality of what those words mean.
I love you Dad and I miss you (even more now than when you first went home to Heaven).   One day at the hospital Jerry asked you what you thought Heaven would be like and you (an Industrial Engineer by trade) said, "well, I imagine there has to be a procedure of some sort.  Then maybe I'll sing in the choir."  
When you took your last breath we all smiled (again through tears) saying, "Well he knows the procedure now!"  I look forward to the day you will orient me into the procedure of walking through the gates of Heaven to live forever with the God and Savior we both love! Happy Birthday Dad!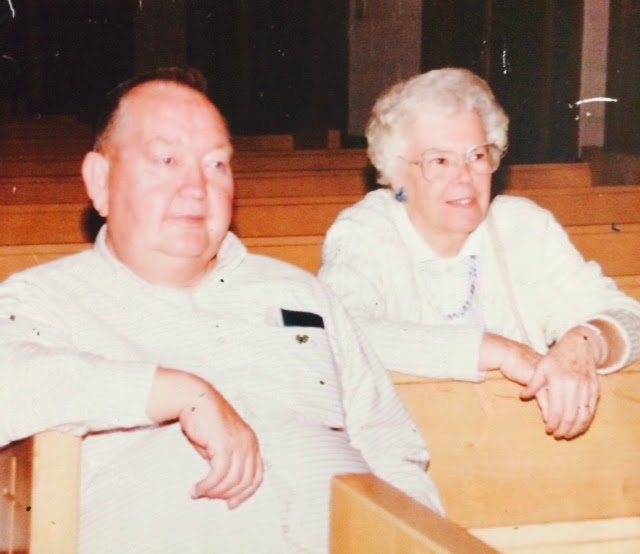 One of my favorite pictures – Mom and Dad
at our wedding rehearsal.  I love the look on Dad's
face – I think it is a mix of amazement, pride, relief
and gratitude that Jerry would take this girl on!!!