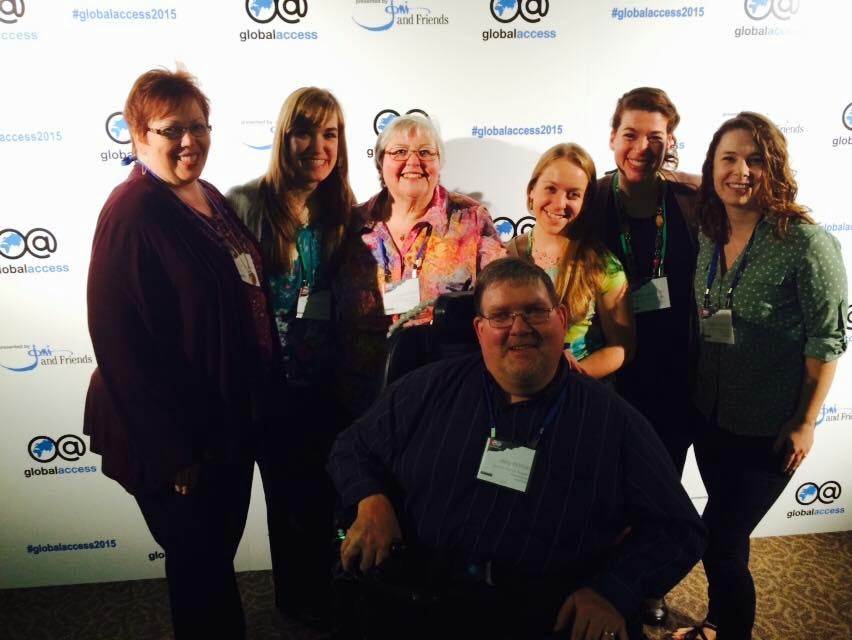 Last week, Jerry and I and two of our staff (Candy and Nancy) were joined by three of our volunteers as we traveled to southern CA for Global Access 2015.  Global Access was a gathering of 1000 people from nearly 50 different nations who have a passion for disability ministry.  How amazing to spend the week with people from all over the US and countries like Cuba, China, El Salvador, Ethiopia, Cameroon Thailand, Nepal, Serbia, Ukraine, New Zealand, and many others.
It is humbling to realize that though we think we in the US have a corner on disability ministry and it is a reasonably newer focus for ministry,  there are people in Thailand, Jordan, Israel and China quietly and faithfully serving and ministering with those who have disabilities.
It was absolutely beautiful to see people dressed in gorgeous colorful clothing from their country.  Even more beautiful was seeing people with various disabilities both as participants and speakers.  But best of all  . . .  worshipping together.  I wish I had recorded it, but it would still not do justice to hear all these voices singing in so many different languages, of and to one God.  As many said, truly a glimpse into heaven.  The last plenary session of the event included a conga line of people expressing their joy to the Lord as they danced around the auditorium!  You can see a short bit of it by clicking here.
When the conference began there were reunions with people we hadn't seen for many years, some we knew from our very early days in disability ministry; so fun to reconnect.  There was Mary Jane who was my roommate on my first trip to Ghana to deliver wheelchairs in 1994.  In Ghana she was thought to be a "witch" because of the way Cerebral Palsy had taken hold of her body.  But oh how those Ghanaians, along with each of us on the team came to love this precious lady as she shared God's work in her life.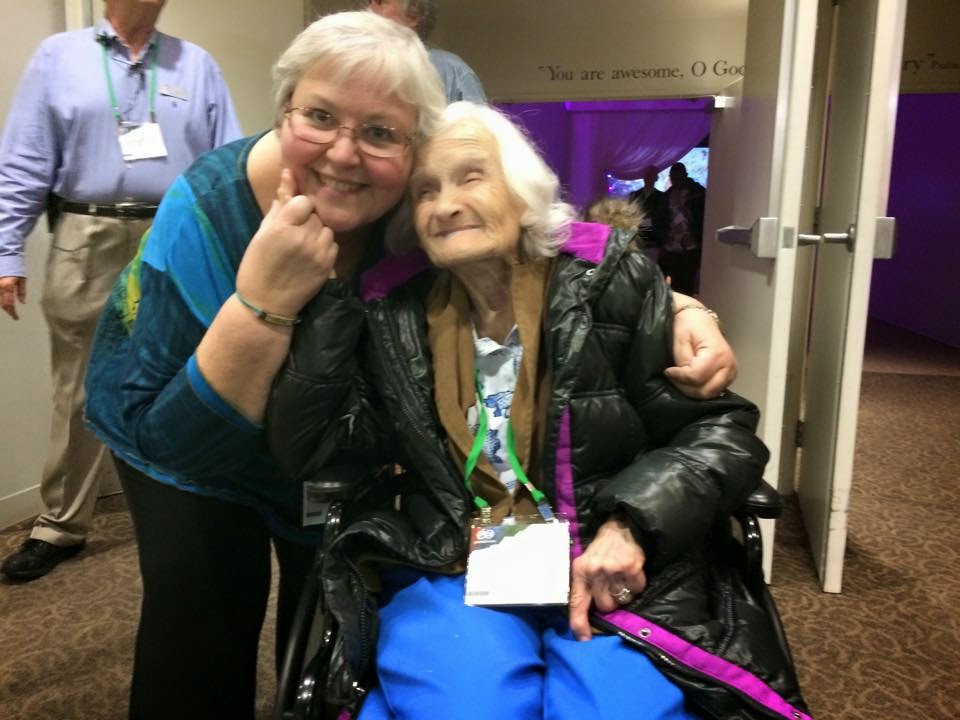 My precious friend Mary Jane
I remember our first night in Ghana.  My luggage did not make it.  We'd been traveling for 2 days wearing the same clothes and now we were in a country not far off the equator.  I was told it would be about 3 days till my luggage arrived.  As we went to our room that night Mary Jane offered me one of her dresses.  Now look at that photo again – even 20 years ago do you think Mary Jane and I wore the same size?  Oh the laughs we shared.
Mary Jane was visiting me the night Jerry first called me at home and our relationship suddenly went from "ministry partners" to something more . . . .  How much fun it was to talk and pray with her about it.
One summer we took the adults with developmental disabilities I was working with on a trip to Colorado.  We camped, but weren't prepared for the cold at the elevations we were at.  We had to make a change.  I called Mary Jane for ideas.  Her idea?  Come to my house – I won't be home but feel free to use it.  So here we pulled a bus into her subdivision and for several nights rolled sleeping bags all over the house and stayed where it was warm an dry after enjoying the sites each day.  Would you open your home to a group of 20 plus people while you weren't home?
What joy it brought my heart to see Mary Jane this week.  I hope I get to see Mary Jane again on this earth.  If I don't, I know I'll see her in eternity – where I may even be able to wear her dress!!!
I tell you those snippets about Mary Jane because she is such an amazing woman who personifies the theme of the Global Access – Where Disabilities and Possibilities meet.  And really that meeting point is love.

The Luke 14 Banquet painting that was created during the conference.
 If you noticed the title on this post it says part 1 and also referenced Vegas.  Check back tomorrow for part 2 which will fill in those details!