In honor of today (where he lives, tomorrow where I live) being my one and only nephew's birthday, I share this memory.
The year Nathan was 10 he received a brand new bike as a Christmas gift.  He was in North Carolina, but because of his Dad's influence from years in Washington, Nathan rooted for the Seattle Seahawks.  I was not a big football fan, but living in Denver Colorado at the time I became a Denver Broncos fan.  Phone calls (this was before Skype or FaceTime) often included some friendly chatter about our respective teams.
A couple days before Christmas I realized there was an opportunity I just could not miss. I gathered my supplies and went about creating a license plate for Nathan's bike.  It was extra large on a bright orange background with bright blue lettering, "Bronco Fan #1"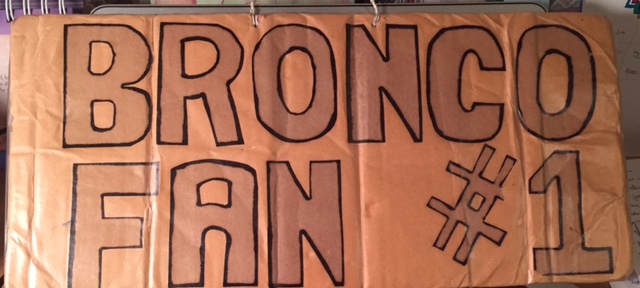 When Nathan woke up Christmas morning and found a bike he was very excited.  As he made his way around the bike and saw the license plate proudly hanging on the back his face fell.  I think he probably said an exasperated, "Aunt Joan!" and quickly took the plate off his bike.
I thought that was the end of that; until I returned home after Christmas and unpacked my suitcase.  There amid my belongings was the Bronco license plate.
And so it began . . .
Sometimes we traded that plate back and forth a few times in the same year, other times  a couple years passed until one of us saw it again.  The unspoken rule has been to never get it back to the other the same way twice.  Over the years it has been found between the mattresses of a bed, attached to the back of a picture frame hanging on the wall, hanging from the mirror of a new car being picked up at the Dealer, hanging off the back of our van, in a file cabinet, and in so many more ways I can not recall now.
There even was a time when a"placebo plate" was created to make one think they were getting the plate as a gift, but it was not.
I had no idea those 25 years ago that little gift would become an icon in our relationship. I wish at the time we had the foresight to record on the back of the plate the places and times that license plate has traveled.
This evening Jerry asked me if it was time to pass this game on to Nathan's oldest son Isaac.  Absolutely not.  I reminded Jerry that this has been and will continue to be for Nathan and me . . . until one of us is no longer around to play the game.
Wow, as I write that I realize this game has a longer history than my marriage.  But both will continue till death do us part!
Happy Birthday Nathan!  I love you more than the Denver Broncos!