November is National Caregivers Month.  Peter Rosenberger, a ministry colleague at Caregivers With Hope created a video to honor caregivers.   We showed this video at our recent Caregivers Day of Pampering to 120 women who provide care for a family member affected by disability or special needs.  There were few dry eyes in the auditorium as the video played.
What is so striking in this video is the names.  We are so often acknowledged as "Jerry's wife" or "Matthew's mother" or "Kim's sister."  Yes that role is a very big part of who we are, and a role we (usually) cherish.  But every once in a while it is needful and appreciated to take a few minutes (or even hours) to be known as Joan, Sharon or Beth.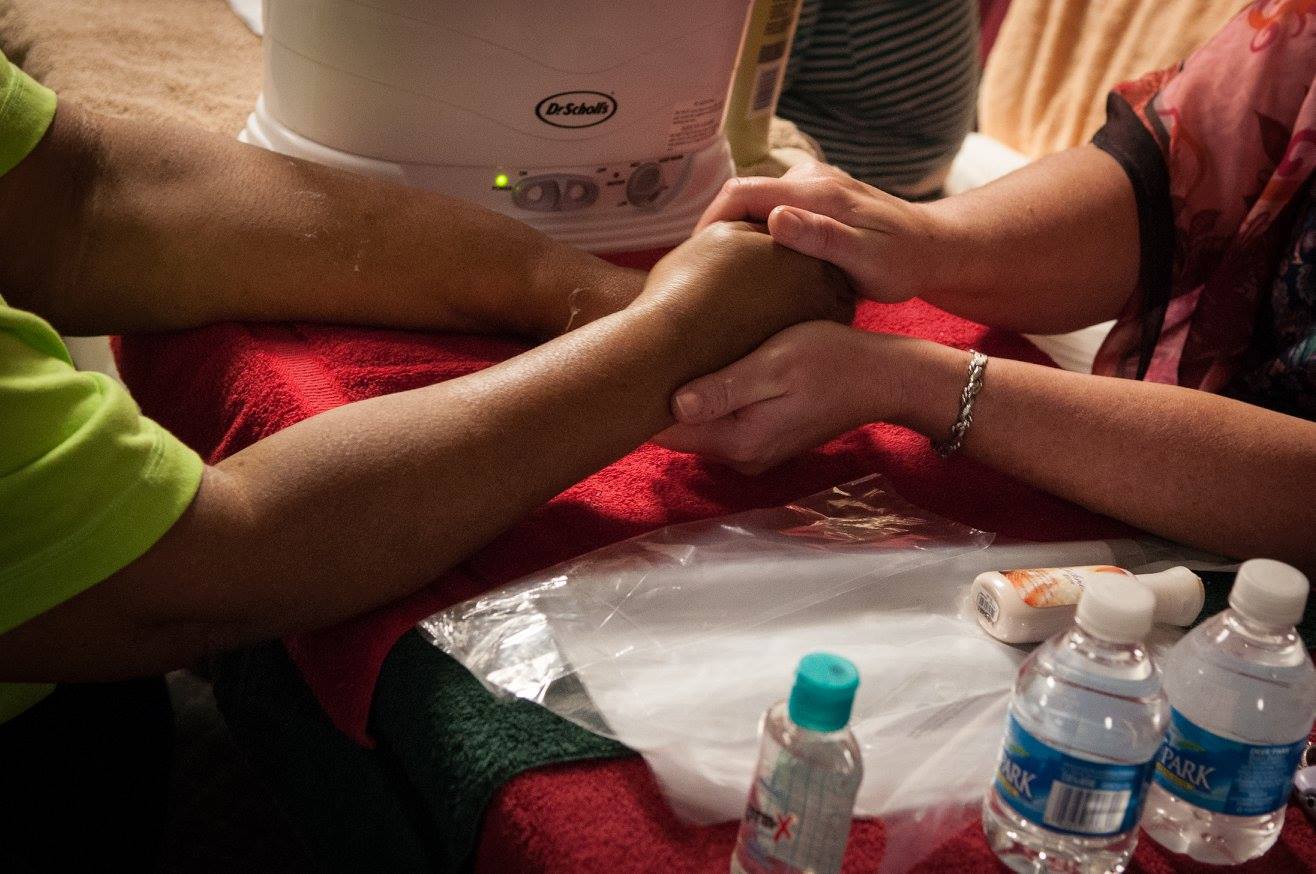 I think that is why at our Pampering Days one of the first "spa stops" for many of the ladies is the paraffin hand dip.  It affords a few minutes to sit down and be face to face with another person who calls us by name.  Conversations can quickly go deep as the "pamperer" looks the Caregiver in the eye and massages their hands.
This month (and beyond) one of the best things you can do to honor and respect a caregiver is to learn their name, call them that, and spend a few minutes looking in their eyes and getting to know them as Marie, Stacy, Janice, Amy, Maria, Trish, Marilyn, Carin, Pam, Colleen, Kelly, Janine, Candy, Savine, Cindy, Marty, Helen, Gwen, Shirley, Jennifer, Michelle, Rose, Kim, Nina, Debbie, Jenn, Theresa, Joy, Lisa, Gwen, Anne, Leann, Katy, Eleanor, Brittany, Jill, Rachel, Maggie, Leanne, Willa, Betty,   . . .
Isaiah 43:1-4 ESV  (italics added)

But now thus says the Lord,
he who created you, O Jacob,
he who formed you, O Israel:
"Fear not, for I have redeemed you;
I have called you by name, you are mine.
When you pass through the waters, I will be with you;
and through the rivers, they shall not overwhelm you;
when you walk through fire you shall not be burned,
and the flame shall not consume you.
For I am the Lord your God,
the Holy One of Israel, your Savior.
I give Egypt as your ransom,
Cush and Seba in exchange for you.
Because you are precious in my eyes,
and honored, and I love you,